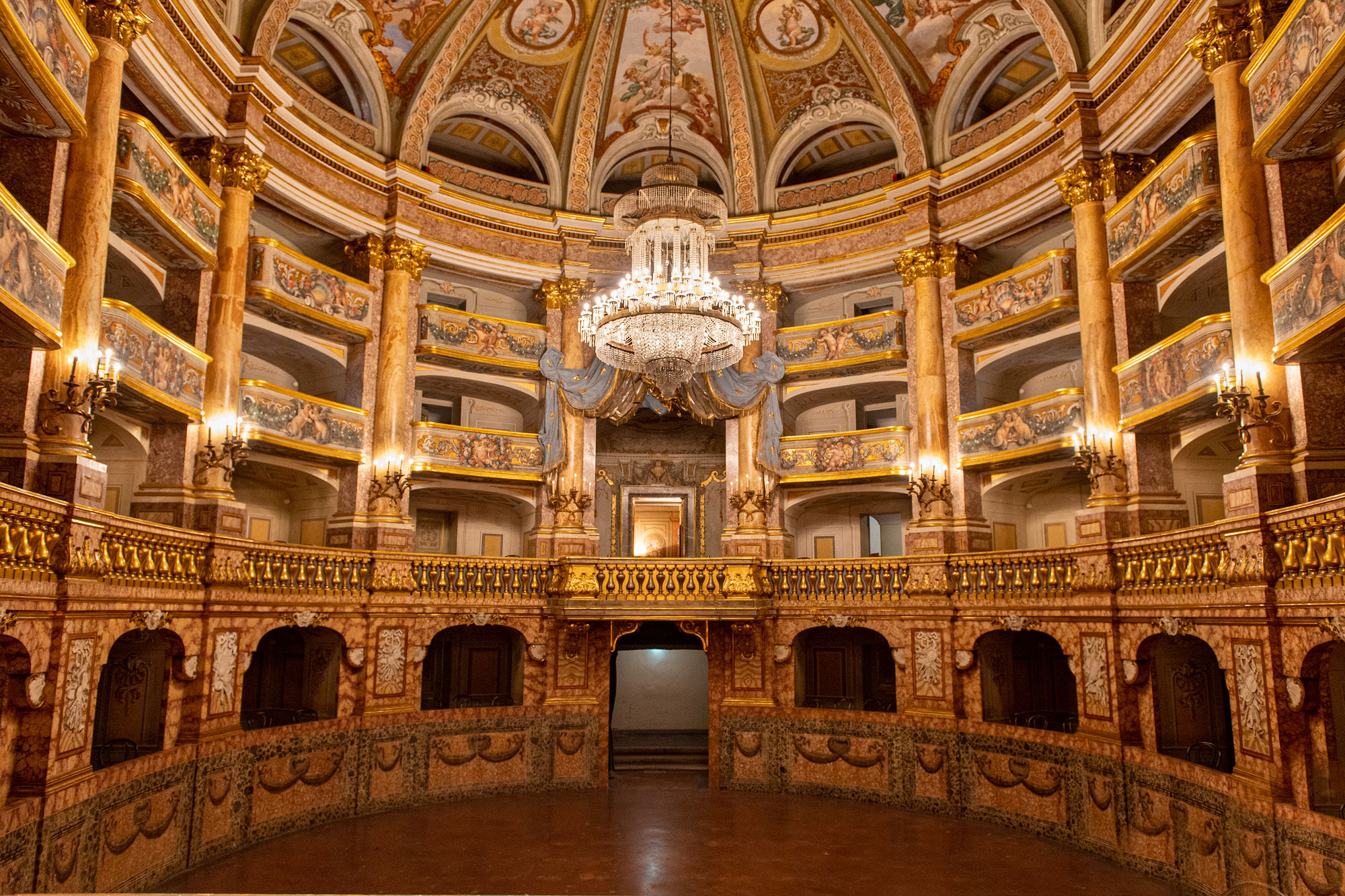 The Court Theatre
|
Read
An architectural jewel to cheer King Ferdinand's court
Subsequent to the design of the Royal Palace, Charles of Bourbon commissioned Luigi Vanvitelli to build a small theatre, intended to entertain the court.
Located in the centre of the western side of the Palace, the Theatre is horseshoe shaped with five tiers of loge balconies, richly decorated by Gaetano Magri. Alabaster columns support the frescoed vault representing Apollo trampling the snake Python, by Crescenzo La Gamba. In front of the majestic royal box, the stage entrance could open onto the Park if necessary, creating a suggestive natural setting.
Despite its modest size (it could accommodate a maximum of 500 people), the Royal Theatre of Caserta is a jewel of eighteenth-century theatrical architecture, due to the perfection of proportions, the acoustic quality and the sumptuousness of the decorations.
Find out more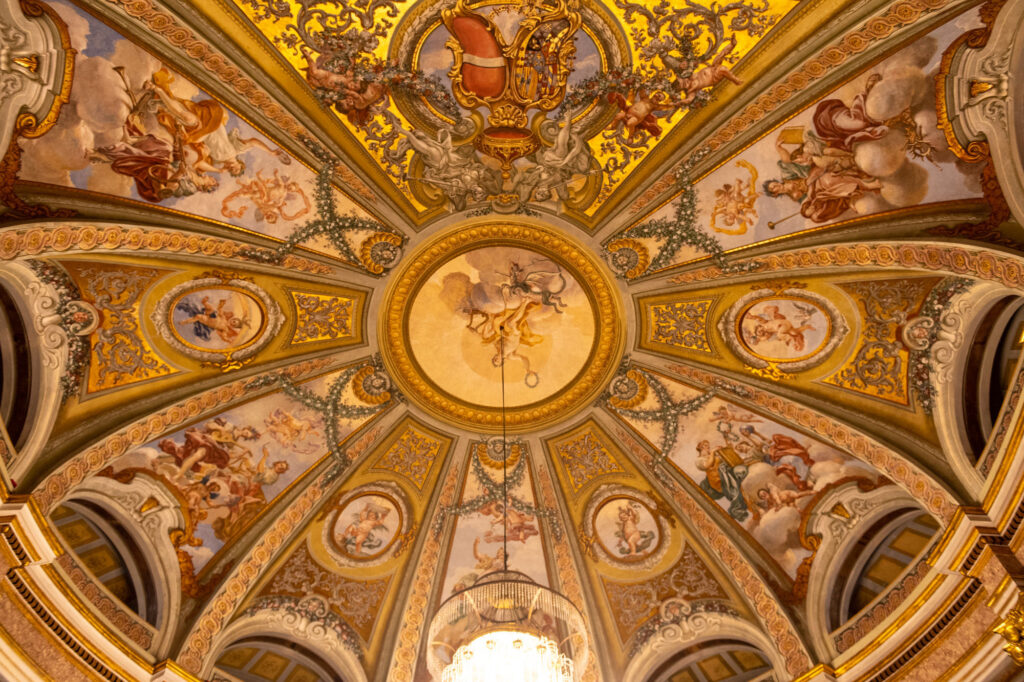 A Project Lasted Ten Years
Charles of Bourbon was not a theatre lover, but he was aware that the development of the arts would greatly increase the prestige of the Kingdom.
As he had already done in Naples with the theatre named after him, he then ordered to build in Caserta a place intended for the pleasure of the royal family and the court, similar to that of the capital but smaller in size.
Luigi Vanvitelli submitted to the sovereign the project of a large public theatre, located outside the palace. The king however preferred a more intimate place, magnificent and intimate at the same time, for the exclusive use of the court: "a small theatre inside the palace for domestic comedies", as Vanvitelli recounts in a letter. The theatre was therefore included in the plan of the Palace, in a central position.
Following the departure of King Charles for Spain, also due to lack of interest of the minister Bernardo Tanucci much concerned about the excessive costs, the construction work lasted over ten years. Vanvitelli devoted himself to it with care: he chose the materials (first of all wood, "to remove the rumble with which the comedians' voices would be confused") and personally designed the decorations, made by Gaetano Magri and Crescenzo La Gamba.The theatre was the only space in the Royal Palace that the architect saw completed.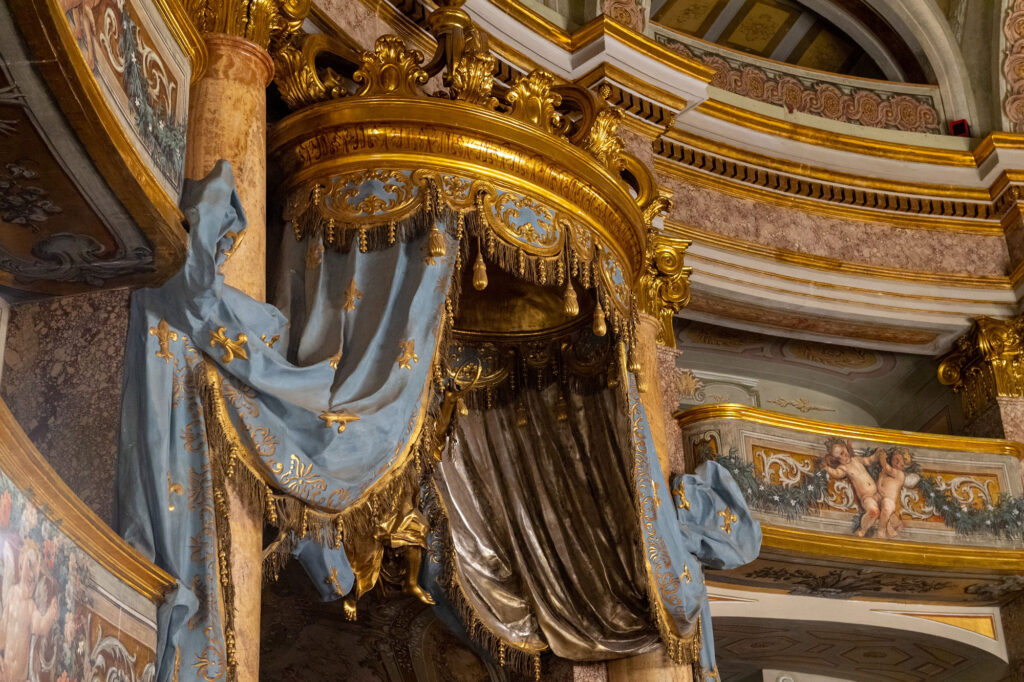 Ferdinand IV and his Love for the Theatre
When the construction works were finally over, a young Ferdinand was then on the throne who – unlike his father – was a great lover of music and plays. During his reign, the Royal Theatre of Caserta came to life.It was inaugurated for the Carnival in 1769 in the presence of the King and Queen Maria Carolina who organized musical operas, comedies and dance parties for the occasion for over two weeks.
From that moment the Court Theatre was often opened to the Neapolitan aristocracy, who flocked to take part in costumed dances or to attend the operas staged by the San Carlo Theatre, the Nuovo Theatre and the Fiorentini Theatre's companies: Le trame per amore by Paisiello, Orfeo by Gluck, Goldoni's comedies, Dido Forsaken by Metastasio.